Mother of Bride/Groom
We know how hard it is to find the perfect suit or dress for your son's or daughter's wedding. Here at Flair Designer Wear, we use our years of knowledge and experience to help you relax and try different looks that suit your shape, colour, and budget.
We recommend that Mother's of the Bride/Groom make an appointment to come to visit us at our Towcester shop or our new Banbury store for a truly amazing personal shopper experience and access to a much wider selection of wedding outfits.
At Flair Designer Wear, we are very proud specialists in Mother of the Bride and Mother of the Groom wedding wear. We stock high-quality suits and wedding outfits from top designers such as Condici, Ispirato, Rosa Clare, Marfil, Gina Bacconi and many more.
All our designer women's clothing is suitable for wedding guests in sizes 0 to 22. For exclusivity, we stock one of each size at our boutique. Also, we realise how important it is to have the perfect wedding outfit for such a special day spent with friends and family. A day that will be captured forever in photographs deserves and requires something special and we will be sure to find you the perfect outfit to suit your style, shape and size.
For a black-tie themed wedding, check out our extensive Evening Wear section!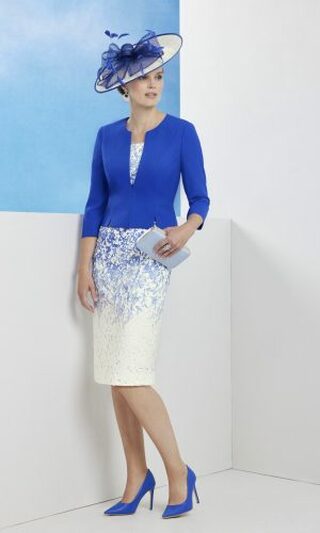 Why Choose Us?
We understand how important it is to get the right fit for your outfit, that's why we carry in-store fittings and work with a highly skilled seamstress to make sure you leave our shop with peace of mind and a smile!
We select the finest suits in an array of colours to compliment any wedding party, whether you're the Mother of the Bride, Mother of the Groom or a wedding guest. We can also provide stunning hats and fascinators to match everything we have in stock and to finish your look we have bags and matching shoes.
We have a wealth of experience in the fashion and clothing industry and have seen many wedding events in Northampton, Towcester, Rugby, Daventry and Milton Keynes benefit from our Mother of the Bride and Mother of the Groom ranges.
Whatever your style, be it classic or contemporary, we will have something to suit you and the occasion.